Designing a commercial or public bathroom can seem like a daunting task having to balance regulations, physical limitations and styles. This post will help break down the decisions and identify the elements required to form the basic structure before including the minor details.
Functionality.
The first decision is to identify your absolute requirements. How many cubicles do you need and how many need to be wheelchair accessible? What other facilities such as sinks need to be installed?
We have a guide available on the regulatory requirements but you may decide more are needed.
Traffic Flow
Visitor traffic flow is an important thing to consider when designing a new washroom cubicle layout. Poor traffic management can lead to visitor frustration and cause queues to block access to other areas of the building.
First you'll need to identify what kind of usage your washroom will see. Do you expect there be a constant visitor flow, High usage at set periods such as an intermission or break time, Maybe use will be sporadic with low traffic. A good washroom layout will be designed around how easy it is for people to exit past those entering, space for those using vanities or other amenities?
Do you expect there to be a constant visitor flow? Will there be high usage at set periods such as an intermission or break time or will usage remain sporadic? How easy is it for people to exit past those entering? Is there enough space for those using vanities or other amenities without causing an obstruction?
Doors should not open directly into people using vanities or general traffic. If ambulant or wheelchair accessible stalls are included in the same room then consideration should be taken for the accessibility and traffic of disabled users. If your cubicles are being fitted for a location with a high number of disabled users then space will be needed for multiple accessible cubicles.
Client Requests
Are there any client requests that require modifications to the vanity units or cubicles? Do you need to set aside a space for the inclusion of furniture or require some empty wall space to place decoration or objects such as dispensers?
Aesthetics
If there is room left over, feel free to liven the space up with some wall decorations or potted plants. A large enough space at the entrance that isn't in a position to be used for more cubicles could be allocated as a waiting area with or without furniture.
Lighting
Lighting can play an important role in the aesthetics and practicality of your WC layout. Lights should be placed to properly light each cubicle as well as the overall room. Try to avoid lights reflecting in mirrors but be sure to keep any mirrors well lit enough to be usable.
Lighting should be evenly placed, avoiding dark spots. Softer diffused light is preferable over harsh lighting to create a cleaner looking environment.
Basic Layout Structures.
These are the basic cubicle layout structures available, scalable to the total number of cubicles required and customisable upon request.
Corner Layout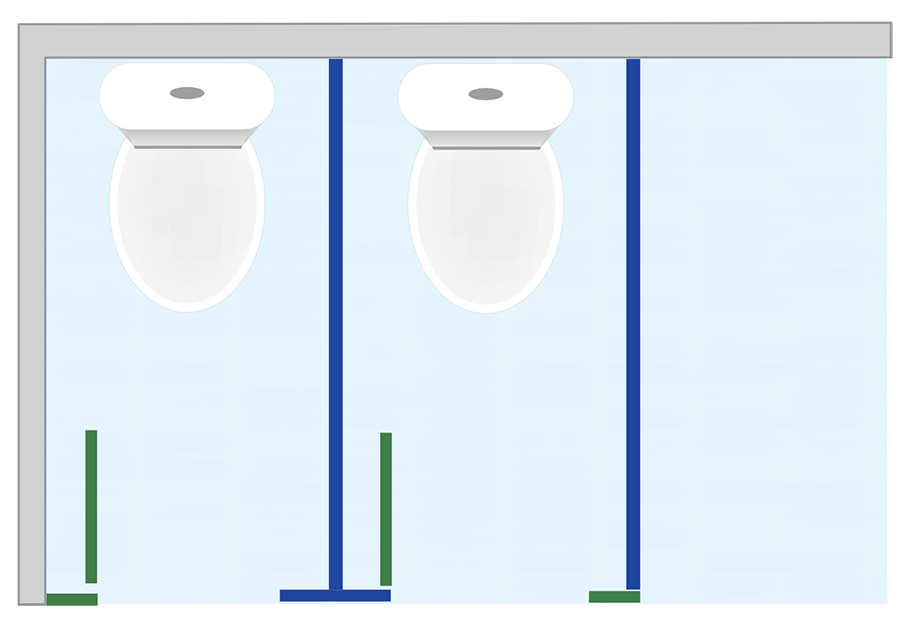 The corner layout uses a cubicle panel in place of a left or right wall in the room.
Between Walls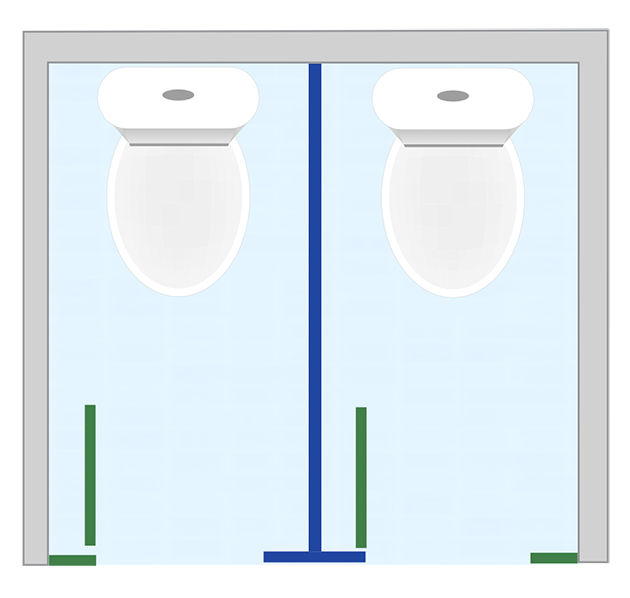 A space between walls with can be split into multiple cubicles to fit, with custom cubicle width above minimum regulations to fully make use of the space.
Single In-Line Partition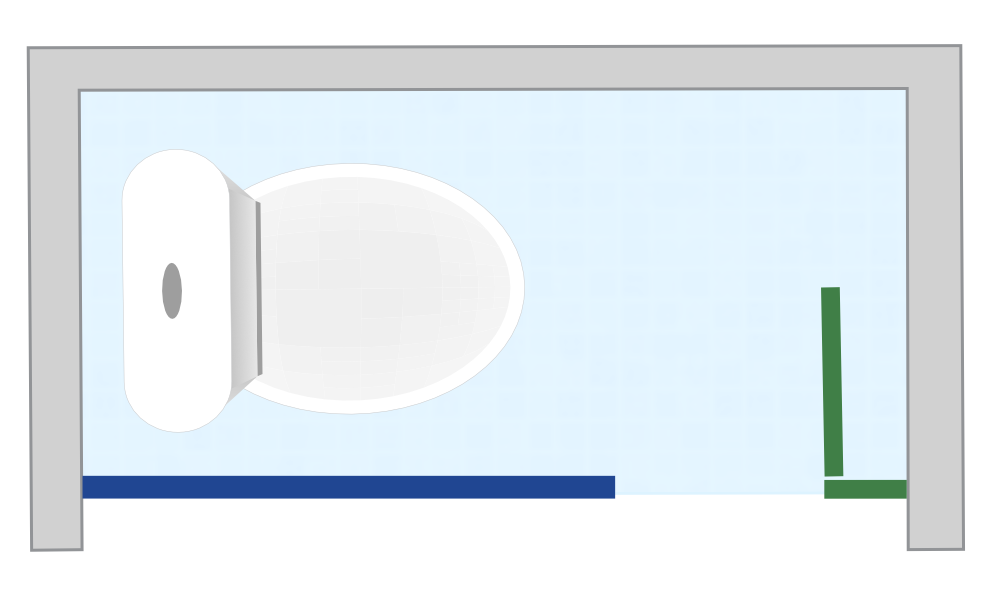 A small space can be enclosed with a single partition and door.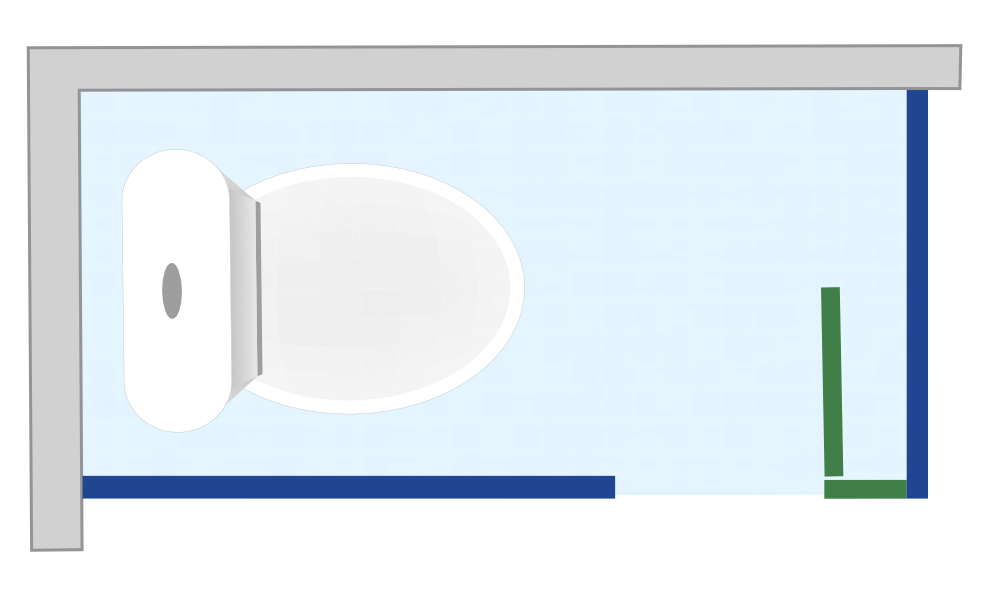 A Panel can be added in place of a wall to create an in line partition.
Free Standing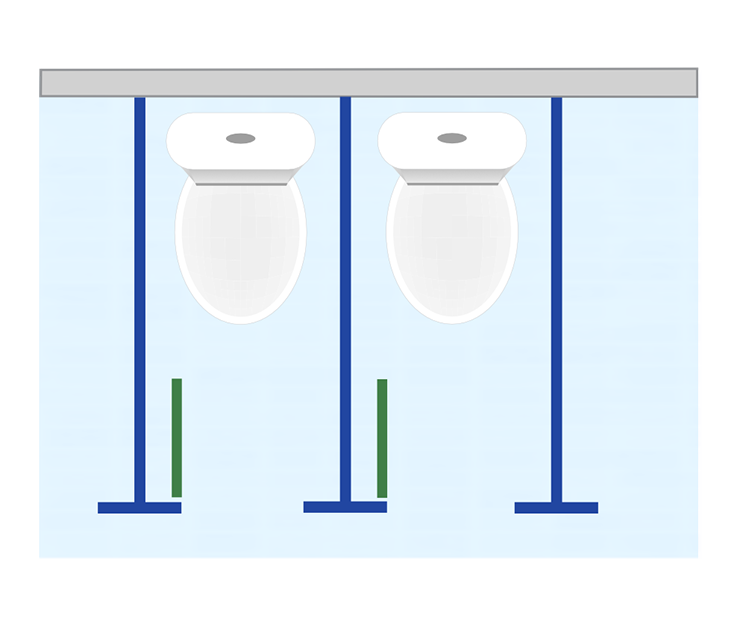 Both ends of a cubicle installation can be made with partitions to create a free standing cubicle installation.
Wheelchair Accessible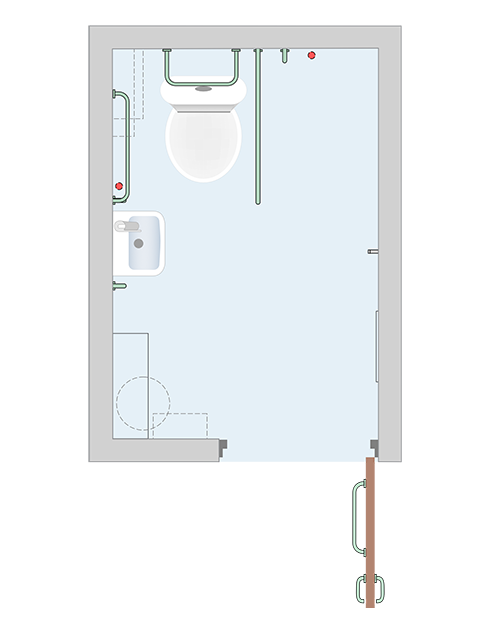 There are a number of regulations regarding wheelchair accessible cubicle sizes and facility positions that must be taken into account when designing your cubicle space.
We have a separate page that goes into further detail here.
Enlarged & Ambulant Cubicles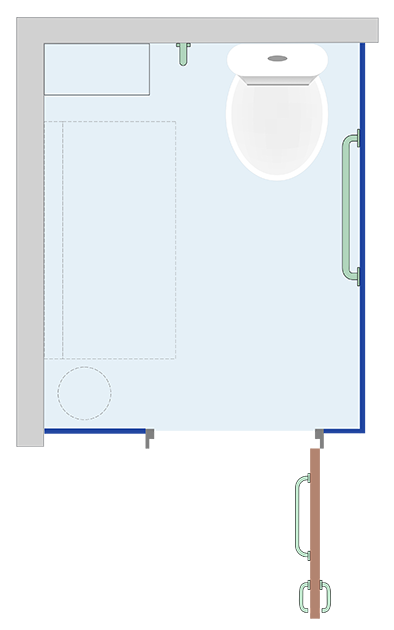 Both these cubicles have special requirements that must be considered, further information can be found here.
Additional Considerations
There are a few points to consider before finalising your washroom cubicle layout. Does your design meet this criteria and if not do you have a good reason why?
Make efficient use of your space
Try to make sure your bathroom design minimises empty space without a purpose, While empty space is essential for traffic unnecessary space between facilities or gaps between cubicle and room walls can inconvenience users and reduce the number of facilities you could otherwise include.
Open space is efficient space
While you don't want to have unnecessary space, open space usually offers better traffic flow while reducing bottlenecks. Check to make sure your layout won't cause people to bump into each other or be stood uncomfortably close to one another. If you expect the toilet use to be high enough that queues may form, Try to ensure you have the space for a queue to form that doesn't obstruct people exiting.
Even if the room is limited in size there are a few design choices you can take to make the space feel larger, Offering a more comfortable and less cramped feeling. A small room without these design choices can leave a worse impression in the mind of visitors.
The use of high ceilings and light coloured walls gives a more open feeling to a room and generous use of large mirrors can further enhance a space.
Think Creatively
Not all available rooms are typically formed, Supporting walls, segmented rooms or corridors may seem like a hindrance but with a creative outlook they could become an advantage.
Don't be afraid to think outside the box, ask yourself what might be possible in the space. Would it be a better use of space to include a freestanding island sink installation or to have cubicles split on opposite corners freeing up central space for the entrance or another facility?
If you're working in a narrow space with a doorway at either end of the room, Maybe it would be beneficial to designate one an entrance and the other an exit with facilities split across the room in order of use, Allowing a single flow of traffic.
---
Please follow and like us: